Gaithersburg-Germantown and Frederick Chambers Host Joint Mixer
The Gaithersburg-Germantown Chamber of Commerce (GGCC) and Frederick County Chamber joined forces to bring its members together for an "Evening of Networking" at the Comus Inn at Sugarloaf Mountain. Over 200 business folks attended the exclusive event in the hopes to make new connections and/or strengthen their existing ones.
"It's always great to interact with our neighbors to the north.  It's always a great event and our members appreciate the opportunity to expand their networking contacts," said Marilyn Balcombe, GGCC Executive Director.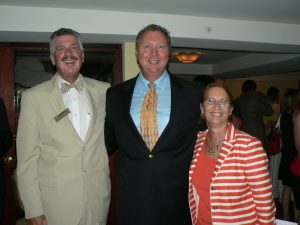 (l:r) Frederick County Chamber of Commerce President/CEO Ric Adams, The Comus Inn Chief Financial Officer Raymond Maldo & GGCC President Marilyn Balcombe at "An Evening of Networking": Chambers Join Forces to provide its Chamber Members with an exclusive networking opportunity on September 11.
(photo credit: Laura Rowles, GGCC Director of Marketing)

The GGCC is active in providing business-to-business networking opportunities throughout the year: a collective voice in local, regional, and state legislative affairs, professional development opportunities and other services that enhance the business environment.
The GGCC is located at 910 Clopper Road, Suite 205N, Gaithersburg, MD. To learn more about the GGCC visit us at www.ggchamber.org.
Find us on Facebook at: http://www.facebook.com/pages/Gaithersburg-Germantown-Chamber-of-Commerce/64339954570. Or on Twitter at: @GGCCNEWS.