Gaithersburg-Germantown Chamber Awards the 7th Annual Small Business of the Year Award
The Gaithersburg-Germantown Chamber (GGCC) awarded Dave Posin, Owner of Soldierfit, as the recipient of the 7th Annual Small Business of the Year Award (SBY) on December 5 as a part of their Annual Celebration Dinner & Awards Ceremony. The award was presented by the previous year's winner Vishal Soni of Authxperts LLC.
The Small Business of the Year Award recognizes small businesses, which are a vital part of our economy and community. The award is presented to the small business that demonstrates success, community involvement, and excellent customer relations.
Soldierfit, a veteran owned company opened for business in 2010 and started with 30      members and 2 staff. Soldierfit now has close to 3,000 members and over 25 staff members.     Soldierfit is a fast growing military inspired fitness company like no other. They offer a fully functional gym, adult and kid group fitness programs, personal training, athlete training, martial arts, and a pro shop with clothing and supplements.
Soldierfit holds regular fundraisers not only for non-profit charities but also for their members and community members.  For example, they created pink Soldierfit shirts and gave all proceed to the Susan G. Komen Foundation as well as battle cross shirts donated to the Yellow Ribbon Fund. They have sponsored and donated to Pit Pride, Wounded Warrior, Autism Speaks, and participated in the MDA lockup where they were one of the highest raising groups. They also work with Cornerstone to help employ those with disabilities
When asked why they should win the SBY award—They said that they teach not only fitness but do things as a team and teach that everyone is created equal and not separate by size, weight, skin color or sexual preference.
Learn more about Soldierfit at www.soldierfit.com.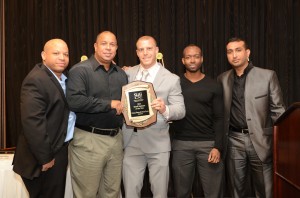 (l:r) Soldierfit's team of Russel Duval, Geraldo Martin, Owner Dave Posin and Antione Robinson receive the GGCC 7th Annual Small Business of the Year award from prior year recipient Vishal Soni of Authxperts LLC on December 5, 2013.
 (Photo credit – John Keith, John Keith Photography)

The GGCC is active in providing business-to-business networking opportunities throughout the year: a collective voice in local, regional, and state legislative affairs, professional development opportunities and other services that enhance the business environment.
The GGCC is located at 910 Clopper Road, Suite 205N, Gaithersburg, MD. To learn more about the GGCC visit us at www.ggchamber.org.
Find us on Facebook at: http://www.facebook.com/pages/Gaithersburg-Germantown-Chamber-of-Commerce/64339954570. Or on Twitter at: @GGCCNEWS.