Gaithersburg-Germantown Chamber Awards the 1st Annual Young Professional of the Year Award
Gaithersburg /Germantown, MD (December 18, 2013) – The Gaithersburg-Germantown Chamber (GGCC) awarded Brett Friedman, Senior Accountant/Advisor with DeLeon & Stang CPAs and Advisors, as the recipient of the 1st Annual Young Professional of the Year Award (YPG) at their Annual Celebration Dinner & Awards Ceremony. The award was presented by Colette Releford of the Gazette.
The Young Professional of the Year Award recognizes and celebrates the accomplishments of a highly motivated, emerging leader of the Chamber's Young Professional's group.
Friedman has achieved the highest designation in the financial planning industry (CFP®, certified financial planner) and continues to gain skills and knowledge through training, networking and speaking. He is able to provide the absolute best and most thorough service to his clients.
He participate s in a number of organizations in the community. He is currently on the board of directors and finance committee of ARC Montgomery County and is on the Gala Board of Community Services for Autistic Adults and Children. Both organizations help countless    individuals with mental and developmental disabilities get employment, a home and live their lives to the fullest. He has also volunteered with the Miracle League, an organization that built a    baseball field for disabled children at the SoccerPlex in Germantown, and is a volunteer for Junior Achievement, teaching a class of 6th graders at Ridgeview Middle School about financial literacy.
Friedman is an active member of the Chamber's Young Professionals Group and is an active participant on the planning committee.
The GGCC's Young Professionals program is a networking group of dedicated young professionals ranging in age from 21-35. Through the GGCC, young professionals can engage with other like-minded business professionals to further their career, strengthen their professional image or just meet new friends. The mission of the group is to make the Gaithersburg-Germantown communities and surrounding areas a great place to live and work by harnessing the strength of our communities to make positive change.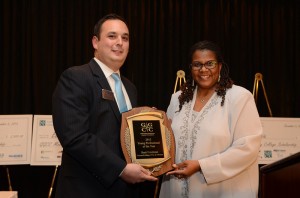 (l:r) Brett Friedman of DeLeon & Stang CPAs and Advisors is awarded the 1st Annual Young Professional of the Year Award by Colette Releford of the Gazette.
 (Photo credit – John Keith, John Keith Photography)

The GGCC is active in providing business-to-business networking opportunities throughout the year: a collective voice in local, regional, and state legislative affairs, professional development opportunities and other services that enhance the business environment.
The GGCC is located at 910 Clopper Road, Suite 205N, Gaithersburg, MD. To learn more about the GGCC visit us at www.ggchamber.org.
Find us on Facebook at: http://www.facebook.com/pages/Gaithersburg-Germantown-Chamber-of-Commerce/64339954570. Or on Twitter at: @GGCCNEWS.