Chamber Ireland Trip
The Gaithersburg-Germantown Chamber of Commerce invites members of the chamber and the community to experience the true Ireland Culture September 19, 2016.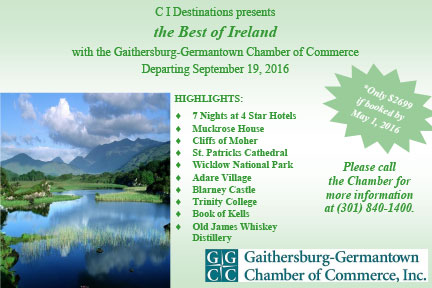 The GGCC will be offering a fully escorted tour of "Emerald Island". Come and discover the wonder of Ireland. It's rolling mountains, windswept bogs, plummeting coastline cliffs, thriving rivers, seaweed-strewn fjords and lush valleys contribute to Ireland's beautiful and dramatic landscape, famous the world over making Ireland a great place to visit.
Ireland has much to offer everyone. From storybook castles to magnificent gardens, wide open spaces to the bustle of international cities, breathtaking natural scenery to man-made megalithic structures, Ireland opens her arms and welcomes you to explore her ancient sites, traverse her green fields and discover her treasures. But the real joy of Ireland lies in the friendliness of the people, the warmth of their welcome, and the ease with which they make you feel at home.
For more information or to register, please see the brochures below or contact the Chamber at (301) 840-1400.
For more information please contact the Chamber at (301)840-1400 or download the Ireland Reservation form here.