Election 2018!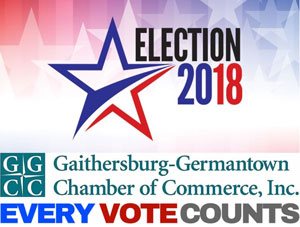 2018 Early Voting Dates and Times
Primary Early Voting
Thursday, June 14, 2018
10:00 a.m. – 8:00 p.m.
TO
Thursday, June 21, 2018
10:00 a.m. – 8:00 p.m.
General Early Voting Dates
Thursday, October 25, 2018
10:00 a.m. – 8:00 p.m.
TO
Thursday, November 1, 2018
10:00 a.m. – 8:00 p.m.
2018 Election Dates and Times
Primary Election Day
Tuesday June 26th, 2018
7:00 a.m. – 8:00 p.m..
General Election Day
Tuesday November 6th, 2018
7:00 a.m. – 8:00 p.m.
VOTE
Every citizen of the U. S. over the age of 18 is eligible to register and vote. You must register before Election Day in order to vote. Visit the Montgomery County Board of Elections website to register or catch up on what's new or find your polling place.
BUSINESS
We have partnered with the Montgomery County Chamber of Commerce as a great resource for businesses looking for information on Election 2018 coverage, candidates and more.
Business Friendly Election Coverage
MONTGOMERY COUNTY EXECUTIVE FORUM
The Maryland County Executive elections of 2018 will take place on November 6, 2018, with the primary election occurring on June 26, 2018. The 2018 Gubernatorial Primary Election is set for June 26, 2018, and it's sure to be a historic election for Montgomery County. The Gaithersburg-Germantown Chamber of Commerce, along with the Rockville & Clarksburg Chambers of Commerce, will host a primary candidate forum bringing together the Democratic candidates for the office of Montgomery County Executive. The Republican candidate is running unopposed. Isiah "Ike" Leggett, current County Executive, is not eligible for reelection. Currently there are seven candidates vying for County Executive. Come and listen to the candidates take turns answering a number of predetermined questions spanning a wide variety of current issues on March 21 at 8:30 AM. Which election issues matter most to you? Register for the forum and have your voice heard. For further details and/or to register, here.