Election 2018!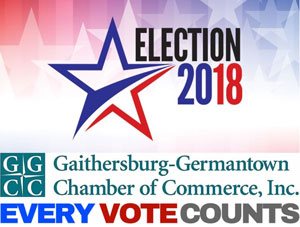 2018 Early Voting Dates and Times
Primary Early Voting
Thursday, June 14, 2018
10:00 a.m. – 8:00 p.m.
TO
Thursday, June 21, 2018
10:00 a.m. – 8:00 p.m.
General Early Voting Dates
Thursday, October 25, 2018
10:00 a.m. – 8:00 p.m.
TO
Thursday, November 1, 2018
10:00 a.m. – 8:00 p.m.
2018 Election Dates and Times
Primary Election Day
Tuesday June 26th, 2018
7:00 a.m. – 8:00 p.m..
General Election Day
Tuesday November 6th, 2018
7:00 a.m. – 8:00 p.m.
VOTE
Every citizen of the U. S. over the age of 18 is eligible to register and vote. You must register before Election Day in order to vote. Visit the Montgomery County Board of Elections website to register or catch up on what's new or find your polling place.
BUSINESS
We have partnered with the Montgomery County Chamber of Commerce as a great resource for businesses looking for information on Election 2018 coverage, candidates and more.
Business Friendly Election Coverage
MONTGOMERY COMMUNITY MEDIA
Montgomery Community Media has extensive coverage for the upcoming 2018 Primary Election. You can click on each race to learn about the candidates and more. View the coverage here. #MoCoVotesMCM
MESSAGE FROM CHAMBER BOARD CHAIR
As residents and business owners in Montgomery County, the June 26th Primary Election is critical. One half of Montgomery County's governing body is changing. Will your voice be heard?
Historically, the Upcounty doesn't vote! It is up to each of us to ensure our individual as well as our collective voices are heard. It is imperative that you, your family, friends and colleagues VOTE on JUNE 26th.
The Gaithersburg-Germantown Chamber does not endorse candidates, but I wanted to be sure you are aware that our own Marilyn Balcombe is running in the Democratic primary for Montgomery County Council At-Large. Members of the Board of Directors support her decision to run.