A Year In Review
Here are some of the accomplishments and highlights from the 2017 year. GGCC remains committed to the success of our members. We proudly serve the local business community by offering a variety of events and programs to promote networking, education, professional development and business growth. We look forward to continuing that growth in 2018.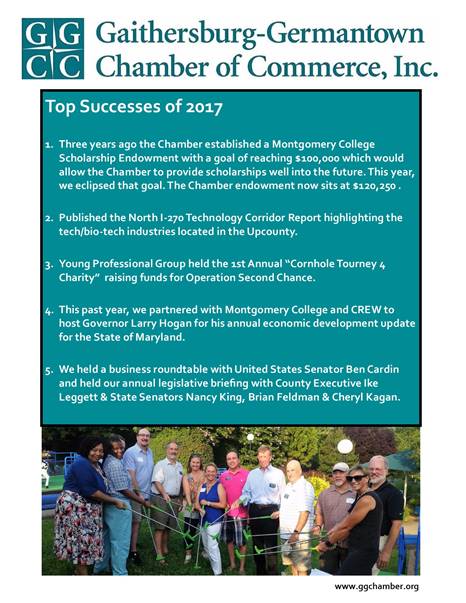 The GGCC is active in providing business-to-business networking opportunities throughout the year: a collective voice in local, regional, and state legislative affairs, professional development opportunities and other services that enhance the business environment.
The GGCC is located at 910 Clopper Road, Suite 205N, Gaithersburg, MD. To learn more about the GGCC visit us at www.ggchamber.org.
Find us on Facebook at: http://www.facebook.com/pages/Gaithersburg-Germantown-Chamber-of-Commerce/64339954570. Or on Twitter at: @GGCCNEWS.